holiday gift guide 2017 | black friday edition
If you haven't already started shopping for holiday gifts (or shopping for yourself, I won't judge), now's the week to do it. There are so many sales happening right now for Black Friday and Cyber Monday, so I thought I'd let you know about all the best sales as well as some of my favorite items from those sales. I'll let you know if you need a code or if the sales I mention are sitewide sales as well as when the sales end, so this is definitely the post to bookmark if you're going to cozy up in bed after Thanksgiving to start doing some intense online shopping. I hope you find this post helpful for all your holiday shopping!
Nike
Take an extra 25% off sale styles with code EPIC25 until 11/28
I just bought a similar pair of Nike Lunarglides as my new workout sneakers and they're also approved by my dad, who used to run marathons. Getting these for an extra 25% off will be so great and you'll be able to get a head start on any fitness or New Year's resolutions you're planning on making if you buy them for yourself!
Saks
Get up to 40-60% off in the designer and Thanksgiving Sales until 11/24 and earn a gift card up to $750 with purchases $200+ using code cyber17 until 11/27
This Saks sale is pretty amazing - there are so many beautiful things in the sale but this unique piece caught my eye. Every winter I always yearn for a cape even though they're a little impractical for every day life (lol) and this year it's been reinvigorated by Riverdale and Veronica's amazing cape in one of the latest episodes. If you want a cape for yourself or a loved one, I definitely recommend this super chic and super soft sweater cape from the Saks sale.
Macy's
GET UP TO 20% off with code HURRY until 11/25 plus other offers and doorbuster deals
I am a big believer in the power of bath robes. I have about three different kinds of robes right now and wear them all the time at home. They're so cozy and it's so much easier than putting clothing if you're just going to the bathroom and then doing some random things around the house and then heading back to bed (which is where you'll find me the entire winter season). It's the perfect gift and I recommend it for everyone on your holiday shopping list.
J.Crew
Take 40% off in the giving thanks event with code thanku until 11/26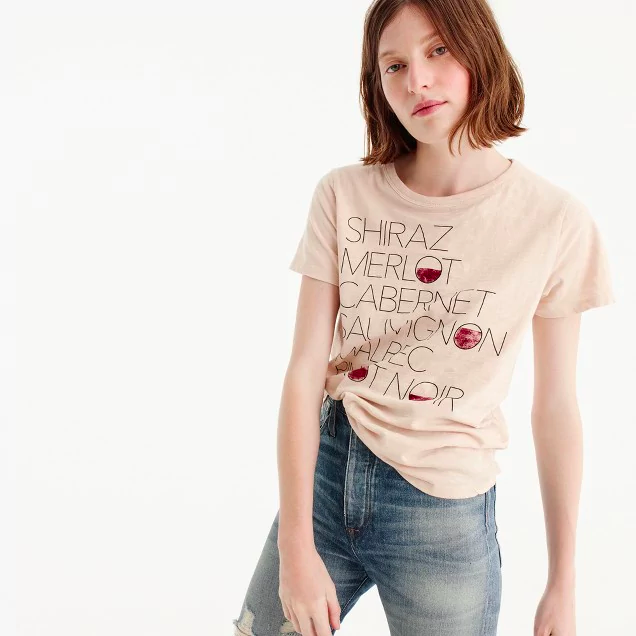 This is the perfect gift for all the wine moms - or wine-anyones - in your life. I've already gotten to the point in my life where half a bottle of red will knock me out (who knew 23 could feel so old) but I can still appreciate wine and know many who do. Let all your loved ones wear their wine obsession proudly with this cheeky shirt that is going to be adored and is well worth it with the 40% off.
Topshop
Get Up to 50% off and get free shipping until 11/27
These boots are an amazing dupe of the gorgeous Chloe Susanna boots which are hella expensive, but these are way more affordable AND on sale this week. A lot of people you're shopping for probably have a lot of black boots already, but the intricate details on these will make it a unique addition to their closet and a much appreciated present (if you wanna gift these to me, I'm a 6.5 😜).
Madewell
Take 25% off everything with code DONTSTRESS until 11/26
If you know someone who's always complaining about their lack of sleep (me lol), this is the gift for them. While there are lots of factors that go into bad sleep patterns, sometimes all someone needs is an extra dark and peaceful environment to lull them into a solid 6 to 8 hours of sleep. This will also be a cute accessory to the cozy pajamas that people oftentimes get during the holidays.
Urban Outfitters
Buy one, get one 50% off until 11/26
Once upon a time I used to work for Urban Outfitters and one of my favorite parts of the store used to be their home and gifts sections. They seem to source all the cutest and trendiest homeware items and this 'millennial pink' S'well bottle is no exception. If you're looking to gift some extra nice stocking stuffers to a lot of people, Urban's BOGO sale is where you should shop - just don't forget to pick something up for yourself too.
NET-A-PORTER
Take up to 50% off designer styles
This floral cardholder is super adorable and there are a lot of other amazing cardholders in the Net-a-Porter sale (I also love this Prada one). Black Friday/Cyber Monday week is a great time to stock up on small leather goods - everyone needs and loves them (except any of your vegan friends) and they're always a beautiful but affordable luxury item that you can gift to those closest to you.
Shopbop
Take up to 75% off sale items and 30% off full-priced items with code MORE17 until 11/27
Shopbop's sale this week is a dangerous one - the more you buy, the more you save. If the people on your holiday shopping list are into designer items, this is one of the sales you definitely need to hit up. One of my favorite items in the sale is this handbag - it's the perfect bag for people who carry around cameras or like to bring a lot of essentials with them in a bag that is as small as possible.
Ann Taylor
50% off everything with code thankful until 11/26 and 50% off everything with code GoPINK until 11/26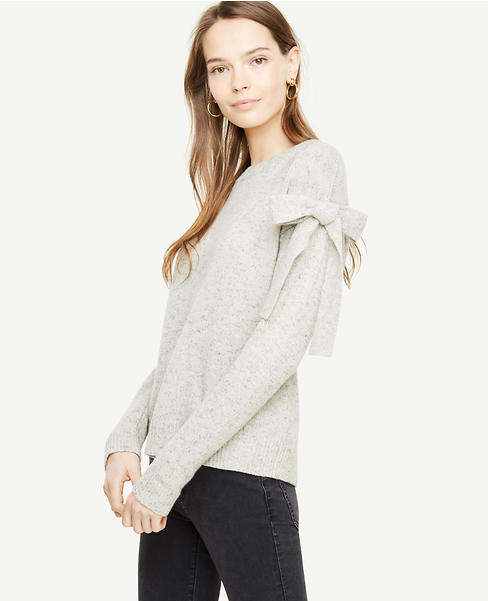 Give the gift of looking like a gift. I absolutely love sweaters with ribbon and bow details (I have quite a few in my collection) so it's no surprise that I wanted to include this in my gift guide. This one is specifically for the lovely petite women in your holiday shopping list, but it does come in regular sizes. I may pick this up myself since it's such a steal with 50% off - and it comes in different colors!
I hope you enjoy this post! I'll hopefully be able to update it as more sales info comes out but I may also be stuck in a turkey-induced coma! Good luck with all your Black Friday and Cyber Monday shopping - stick to your budgets, get lots of holiday presents, but remember to treat yourself too! You can also check out my other gift guide for some beauty gift inspiration. There should be more gift guides coming soon to thisisyna.com leading up to Christmas so make sure you're following me on Bloglovin' to stay updated on all my posts. I'm also on social media so please join me on Instagram, Facebook, Twitter, and Pinterest. Have yourself a safe and wonderful Thanksgiving! 🦃
xoxo Yna