app favorites
Hey, you! Are you reading this blog post on your phone? According to my analytics, you probably are. You're probably on your phone all the time because it's more seamless and convenient than doing things on your computer. I remember having a Nokia Sidekick when I was really young and loving it and now, phones are even cooler. The best thing about phones these days are all the different apps - you can never really get bored if you have a phone and good wifi. The apps in this post are a bunch of apps that I use all the time - some I've used since first getting my iPhone and there are also a few that I've discovered recently but am really enjoying. If you're tired of scrolling through Instagram and are looking for new apps to download or re-discover, keep reading!
A lot of people love using Spotify and I used to love it too, but last year I switched over to Apple music and I've never gone back. I feel like Apple always gets music first and has a more comprehensive library, and I feel like the interface is much cleaner and easier to use. Spotify was bogged down with ads and you could never skip songs too often but Spotify Premium was too expensive. I'm on a student plan for Apple Music so it's pretty affordable. I also like how you can download songs to your phone for free so that if you don't have wifi and can't use your data for some reason, you can still listen to music. This has been very helpful on roadtrips where Gerome and I hit dead zones in Maine or Connecticut. Also, sorry for this peek into my trash music taste LOL. That first song is the original Despacito, which is really good (who needs Bieber's uncultured ass?). Next to it is a rock cover of XO Tour Life by Lil Uzi Vert, which I've always believed in my heart would have been one of the emo songs I listened to in middle school 😂
Podcasts, the medium and the app, are so underrated. I used to listen to podcasts way back when I was young - my favorite was Mugglecast, a Harry Potter podcast. Now, I'm more into horror and mystery podcasts, as well as news and true crime podcasts (who doesn't like Serial?). Sometimes it's just too distracting to listen to upbeat music when you're trying to work but I can also easily be lulled to sleep when listening to softer classical music. Podcasts are a happy middle ground. The talking isn't too distracting or hard to pay attention to but the sound effects also keep me awake. Plus with podcasts, it's easy to pause or rewind if you zone out and still want to listen to a part of a story, or you can be non-committal and just let whatever you're listening to keep playing. The podcasts I'm currently listening to are Darkest Night, Archive 81, and The NoSleep Podcast. Do you listen to any good podcasts? I feel like I need to branch out from this horror binge I'm on, but listening to scary stuff also helps me dissociate from the truly horrifying world we actually live in for a few hours every week.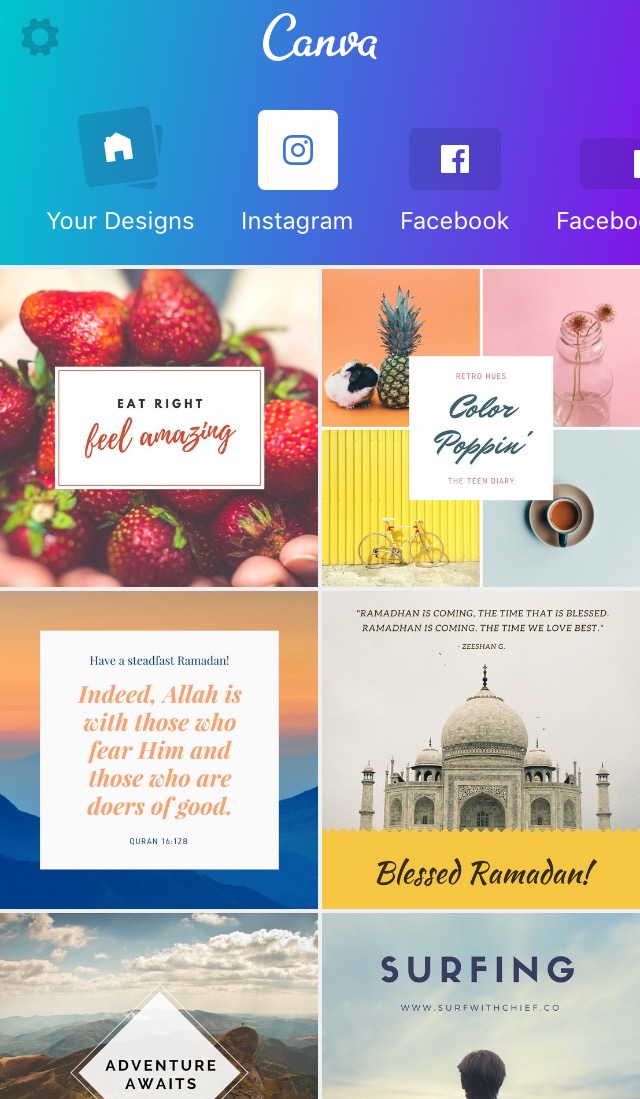 I'm not very skilled at Photoshop or Illustrator yet because I've never wanted to drop hundreds on a personal subscription to Adobe Creative suite and have rarely had time to play around at work with them. Eventually I'll use them more since I really do create content for work A LOT but for now, Canva is my homie. There's a desktop version that I use when I'm at work, but when I'm at home or on the go and have a spark of inspiration for content to post, I like using it a lot. It's super easy to pick a layout, drag in a background photo (or two or three or more), and play with font and spacing and everything. The headers for most of my blog posts are created on Canva - the header/featured photo is always one of the last things I create before posting a blog post so it's good to be able to finish it quickly if I've set a deadline for myself (but let's be honest, I'm not good at setting and following deadlines for myself at all). It's like graphic design for dummies, or graphic design for overworked content creators who never went to art school 🤷🏽
This is one of the newest additions to the apps on my phone. I briefly studied information systems so I knew SQL once upon a time and I also worked as a Data Analyst so I had to do a teensy bit of coding, but I am not a programmer at all. I do some basic web design and data science for work but even my own website is created on Squarespace so I don't have to do any coding. That being said, I would still love to know at least the basics of a couple different programming languages, and try to get better at whichever ones I feel most comfortable with. I discovered this app on the homepage of the App Store when I was bored one day and tried it out. It's pretty easy and fun to go through the courses - they have short informative blurbs and mini quizzes and interactive graphics you can work with. If you want to play around with entry-level coding or introduce yourself to a new programming language for work-related purposes, this is a pretty cool app to try out. You can even set up notifications to remind you to use it for a few minutes every day so you keep up with your mini computer science education. Go forth and educate yourself, girl!
All my friends and my siblings play Everwing on Facebook Messenger and I try to as well, but shit like that gives me aggressive migraines and nausea. I love playing video games with my boyfriend but 30 minutes of playing Halo makes me want to die. Since I can't always keep up with all the young'uns and their actiony & adventurey games, I play a more soothing and calming interior design game. You might think it's stupid or boring, but I love picking out furniture and thinking about decor. I currently live in a bedroom in a shared apartment so this game gives me an avenue to express my decorating ideas that I can't use in real life. One of the most exciting things to happen to me this year was getting a beautiful tufted headboard with my new bed and I continue to live that kind happiness every single day with this game. In the game, you decorate rooms in different kinds of houses all over the world based on different themes and you play for money to buy new furniture and decor. You also get to decorate more rooms by voting on other people's designs and can also win furniture and more money if you have a highly-voted design. This game is like raging at IKEA or Target or HomeGoods without actually spending any real money (unless you're hardcore and spend real money on games, but I wouldn't recommend that - it's not that serious)!
T-Mobile is my phone carrier so I'm sorry if you're wasting money on another carrier - you can't really utilize this app 😜 It's just a fun app for T-Mobile customers to get rewarded on Tuesdays by playing little games like matching cards. Sometimes the prizes are dumb (Edible Arrangements pineapple pops) or irrelevant (blu-ray rentals? who rents physical movies anymore) but some are pretty great. Gerome and I try to use the $4 movie tickets whenever they pop up - we love watching movies but it's an expensive habit. The other week they had $10 off of Hautelook, which was actually pretty amazing since Hautelook already has high-end products at major sale prices. We've also gotten free pizza and wings (this is how I learned that some pizza chains actually have gluten free options, though I wouldn't recommend this to people with Celiac). It'd be cool to win one of the grand prizes they have since they are usually all-expenses paid trips, but I'm not holding my breath. When we watched Wonder Woman for $4, it was doubly empowering for me because this app saved me money #feminism #girlboss #brokeassbitch 😂
Wegmans is my favorite grocery store. When it first opened in my hometown, it was like a godsend. My parents had always gone to Acme and Walmart before Wegmans and I guess I never liked the vibes of those places. I never knew grocery stores could be so fun and pretty! Now that I'm an adult and going to a different Wegmans, I'm a little more preoccupied with saving money and trying to figure out what to make for dinner rather than appreciating the aesthetics of the place. Discovering this app was amazing because you can put in all the things you want in your grocery list and it will tell you what aisle it will be located in at the store of your choosing. You can also pick through coupons and "clip" them, and when you scan your card at checkout, they get applied to your purchase. It's the little things like this app that make adulting just a bit easier (I'm still waiting on an app that'll do my taxes for me without me thinking about them at all. Or an app that'll do my hair in the morning.).
Living gluten free isn't exactly easy. It's not just "bread" you have to avoid - you also have to avoid vindictive waiters who project their bad day onto you by putting croutons on your supposedly gluten free salad. The reasons behind my gluten free diet should really just be between me, my doctor, and God if he cares/exists, but some waiters have a real attitude when I request gf food and always seem to want more personal details than I care to divulge. This app helps by showing user ratings of places based on their gluten-free-friendliness. If a place has five stars from a lot of people, you're generally guaranteed to have a great time with safely and carefully prepared gluten-free food and knowledgeable and polite waiters. It's also nice hearing stories from the servers like "oh the owner has Celiac so we're super careful about gluten contamination" or "the chef's daughter has autoimmune thyroiditis so she knows how to prepare food safely" since they calm my sometimes nervous disposition about eating at new places. Using this app, Gerome and I have been able to discover lots of new restaurants that I can eat at without getting horribly sick afterward.
You've probably heard of this app and you're probably also using it better than me. It's been a few days since I've updated the app with my meals, but it was also a holiday weekend so I didn't really want to think about all the basura I was putting into my body. BUT I still do want to keep track of my health and my foods since it's good for me to remember what I've recently eaten in case I get sick, and it also helps me see what foods make me feel good or bad. I'm not really trying to lose weight (I don't even own a scale lol) but it is helping me see where my calories are coming from on the days that I happen to care, and it's also a good app to keep track of any exercises I'm doing (a rare but hopefully growing occurrence in my life). Before you get alarmed at my "goal" calorie count, remember that I am 4'9". I also eat way more than that all the time so oops 🤷🏽 My favorite part about this app is that it syncs with my phone's Health App step tracker so that counts into exercise without me having to do anything manually. I used to use my Fitbit more, but I would keep letting it run out of battery and using my phone was just more convenient.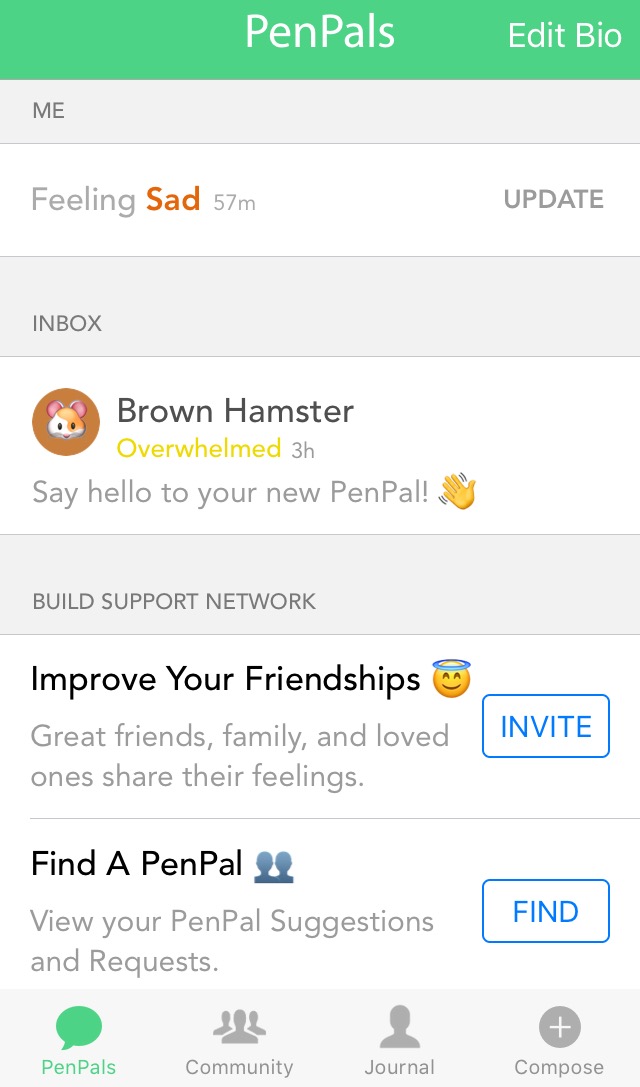 This is probably the most important kind of app that I'm gonna recommend to you. Whether it's this app or some other kind of tracker, you should always be mindful of where you are in your mental health. In a digitally-focused world, it can be hard to focus on how we're feeling and what we can do to either improve ourselves, seek help, or continue what we're doing. It's also hard to find people to be real with when it comes to mental health. Besides my boyfriend and counselors I've talked to, I rarely open up about my mental health to people in real life - and that's okay sometimes. I worked for a mental health non-profit for a year and I learned that most people, like myself, would rather not everyone know their deepest and darkest secrets. Of course, it's still important to talk to people about your mental health. Talk to your doctor, find a mental health professional, and/or find and talk to people who may be going through a similar kind of experience. This app helps you journal about your feelings (and you can see your moods over time visually on a calendar, which is helpful) as well as talk to anonymous penpals you get paired up with. Journalling may seem childish but it's a very helpful technique to help you understand your emotions and regulate your moods. If you're going through some shit or just want to live a more mindful life, I highly recommend trying out this app.
That's it for my app favorites! This was a long one, but hopefully it makes up for my inability to stick to a consistent posting schedule! Do you have any apps you want to recommend? Leave your suggestions in the comments, as well as any feedback you have for me and my blog! I'd be happy to write my next blog post about something you want me to write about but I can't read your mind, girl. Please join me on social media if you haven't already - ya girl is on Instagram, Facebook, Twitter, Pinterest, and Bloglovin'. Thanks for stopping by my blog!
xoxo Yna