pleated midi skirts
Since I'm a petite gal, I usually wear shorter skirts to play with my proportions — the more of my legs your can see, the taller I'm supposed to look. Recently, I've opened up my wardrobe to longer skirts and more specifically discovered a love for pleated midi skirts. I'm 4'9" so most midi skirts, petite sizing or not, are pretty full-length on me, but I still love how feminine and flowy they feel. Even though being a woman was terrible back in the day (and sometimes still is) I do fantasize about the days when women wore long skirts all the time. I think pleated midi skirts get me pretty close to that fantasy without looking like a Game of Thrones extra. Summer has also pretty much arrived in Boston, and having a longer skirt can feel really nice (and look really cool) when there's a breeze to move it around. Longer skirts also mean not worrying too much about exposing yourself, which is always a concern with shorter skirts (if you've never felt the horror of realizing your backpack has caused your skirt to ride up in the back, have you even lived?). Below I present some of my favorite pleated midi skirts — a couple that are in my collection and a few that I'm definitely considering on adding to my cart.
$89.95
I got this skirt to wear on my 25th birthday and love it. It's a super soft fabric with a lot of detailing – I especially love the lace panel on the bottom. The colorful and delicate florals make pairing this skirt with anything in your spring or summer wardrobe super easy. At 4'9", I wear this at my natural waist in a Petite XXS and it hits a few inches above my ankle.
$34.99
I got this skirt to wear for Easter and I also worn it on a Memorial Day trip to Newport, RI and many times in between. The khaki green snakeskin pattern can be paired with dark or light items in your wardrobe, so you can take this skirt through a lot of seasons. At 4'9", I wear this at my natural waist in a 0 and it hits a few inches above my ankle.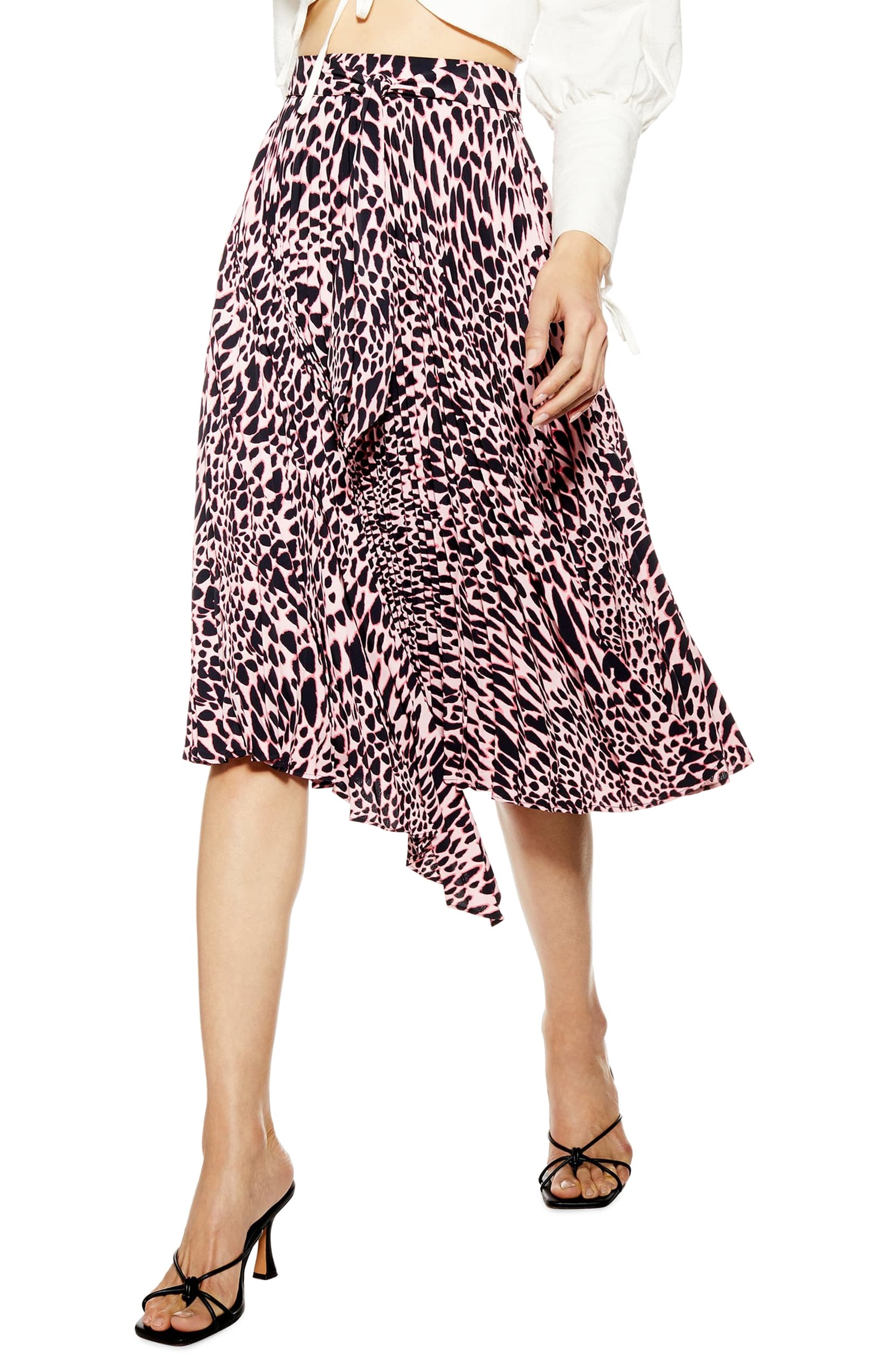 $75.00
I love the animal print on this skirt, which you can wear with a neutral blouse for work or make it a bit edgier with a crop top and leather jacket for a night out. The asymmetrical cut and the tie detailing at the waist makes this a super cool and breezy skirt for the summer.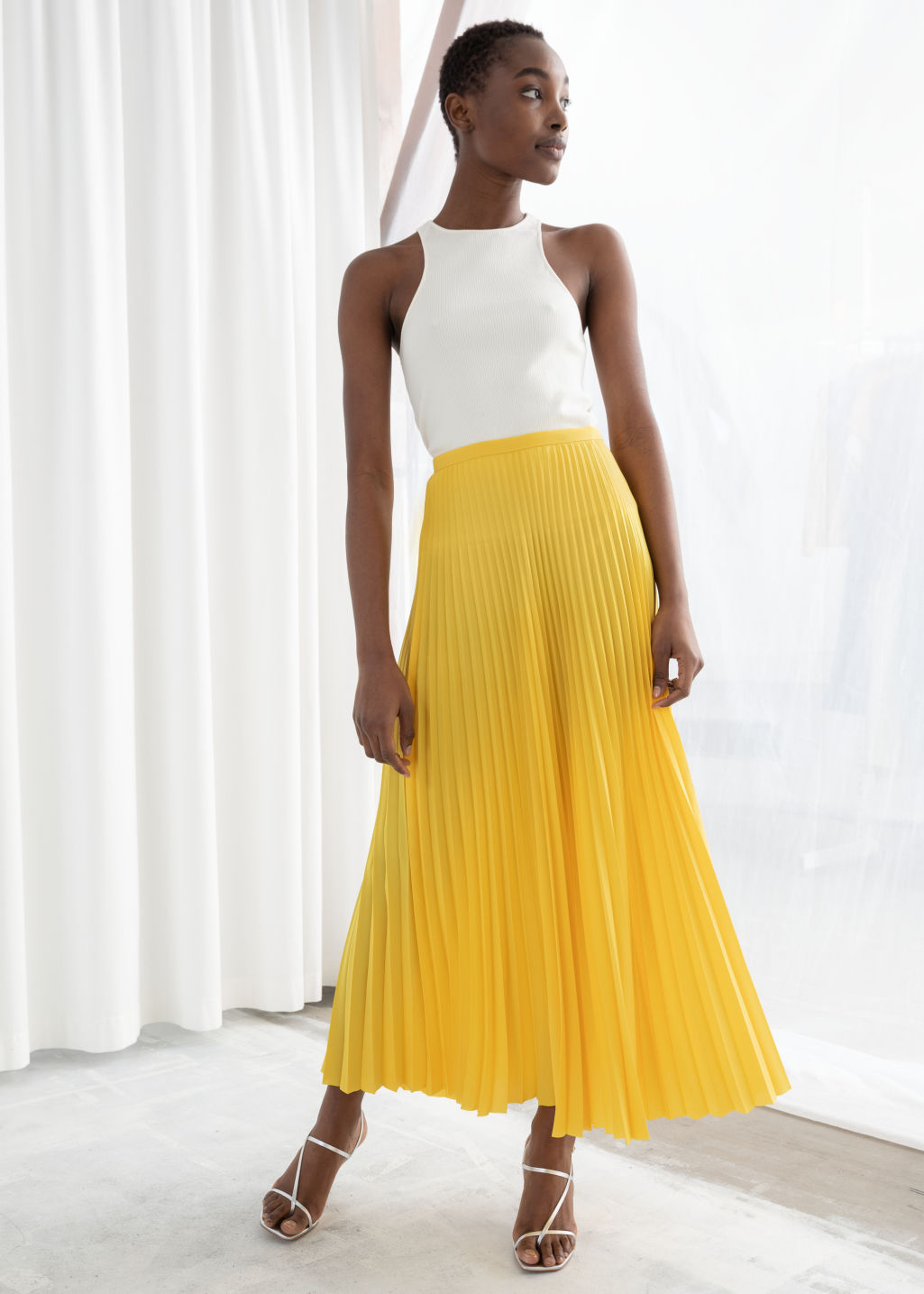 $89.00
I have a dress from & Other Stories in this same sunshiney yellow that I love, so of course I was drawn to this golden pleated skirt of theirs. For a while I wasn't too keen on wearing yellow because of my skin tone, but I've been learning to like it since last summer – so long as there's not too much of a green undertone to the yellow.
$45.00
Blush/pinky-nude tones are my favorite for accessories, clothing, makeup, you name it. I highly recommend you snag this skirt if you're as into that color palette as I am. I have a Reformation dress in this color so I probably don't neeeed this skirt but I'm definitely itching to add it to my wardrobe.
$69.90
I am really digging the belt detail on this skirt and I was also pulled in by the I'm-going-to-explore-a-jungle-in-the-Philippines vibe that Zara styled it in. There are a lot of 60s/ mod/retro belted looks out right now, so this skirt is a perfect way to pull that style into your summer wardrobe.
If you've found any other cute pleated midi skirts, please link them for me in the comments! I think they're such a versatile piece that can instantly make any outfit pop, so I'm definitely interested in finding more. If I haven't convinced you that you need a pleated midi skirt or two in your life, let me know what other must-have clothing item idea you'd like me to take a deep dive into! By the way, I've started working on the portfolio section of my website and am looking for feedback. Besides good weather for wearing fun skirts, summer also means more time to work on other projects (like this blog LOL), so if you're looking for someone to partner with on a creative project, check out my portfolio and hit me up! Thanks for reading this post – definitely stick around and let's chat in the comments :) If you also have the time to hang out with me on social media, I'm @thisisyna on Instagram, Facebook, and Pinterest and @disisyna on Twitter.
xoxo Yna